Naples Real Estate
Posted:
Naples Real Estate
Things to do in Naples, Florida
While Naples real estate constantly dominates the news since we have one of the hottest markets in the country (and that's not a reference to our sunny weather), the fact remains that there is plenty more happening here. Beyond Naples real estate, residents revel in the amazing variety of things to do.  As Naples natives, we always strive to take advantage of the many attractions. In addition to having some of the best beaches IN-THE-WORLD, we also have an array of family-friendly attractions. These include the Naples Zoo at Caribbean Gardens, the Golisano Children's Museum of Naples and Sun-n-Fun Lagoon at the Collier County Waterpark.
For a great night on the town, there's great restaurants along world famous Fifth Avenue South, an amazing array of art galleries along Gallery Row in Old Naples and great variety of cultural enrichment through venues like Sugden Theater or Artis-Naples which hosts lavish stage productions and concerts by legendary recording artists.
Great Places to Score
Naples is esteemed as the Golf Capital of the World based on the per capita number of private and public golf holes, yet is also a shopper's paradise given the range of upscale boutiques featuring all manner of leading designer in fashions and accessories. Check out the finds at places like BayFront, Waterside Shops, Venetian Village and The Mercato of Naples.
For those who enjoy fishing and boating, there's unceasing opportunity to enjoy area waterways and adventures on The Gulf of Mexico. In fact, among the greatest shows on Earth is a Southwest Florida sunset. Many Neapolitans gather each evening at the Naples Pier to enjoy sunset. Don't be surprised to hear applause as the last glimmer fades on the horizon.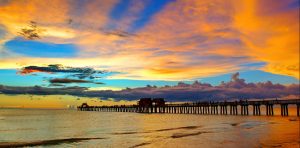 Yet for all these things, Naples also has a few hidden gems that are waiting to be discovered. Trip Advisor recently compiled a list that we encourage everyone to check-out. If you are ready to explore options beyond Naples Real Estate, discover  more by Clicking Here.
And for those still interested in Naples Real Estate, feel free to explore a few of these gems currently for sale.
Current Naples Real Estate Listings